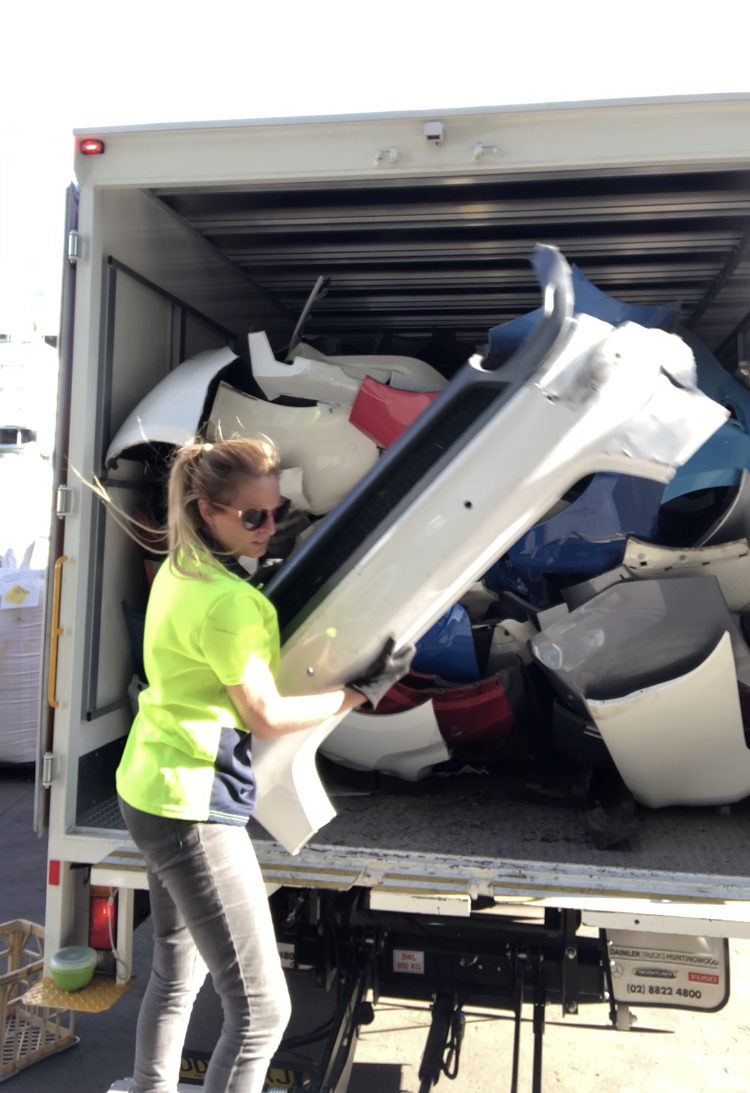 Bec Healy, is the founder of Boxhead Plastics, a non-profit social enterprise that locally collects, recycles, and remanufactures scrap plastic car bumper bars. After 15 years of public service, Bec retrained as a Polymer Technician and pioneered an innovative process that repurposes low grade plastic waste car bumper bars into outstanding products such as golf tees and coasters (www.naiteev.com). The Australian automotive industry plastic recycle rate is just 1.9%. The Boxhead Plastics team, led by Bec, is dedicated to keeping this waste plastic out of landfill and supporting local jobs and local manufacturing.
Boxhead Plastics plays a critical role in the remanufacturing of one specific plastic waste stream, post-consumer automotive plastic car bumper bars. Our aim is to create new industries, new jobs and secure a sustainable future for Australia. Our vision is to collect every scrap plastic car bumper bar in Australia for recycling and remanufacturing.

The Boxhead Plastics team has forged a chain of local industry relationships that allow us to reliably manage this bulk waste at each stage of the remanufacturing cycle; and support local industries such as Precise Plastic Products in Hornsby who manufacture our products from our locally processed recycled feedstock.

In the years before Boxhead Plastics was born, Bec studied part-time to become a polymer technician while working a full-time administration job in the power industry. She left that career after 15 years to commit full-time to a dream of positive environmental change, combining her leadership, customer relations, and administrative skills with her newly obtained qualification as an injection mould operator. With the Boxhead Plastics operation now off the ground, she is continuing her studies, working towards a Diploma of Sustainable Practices.
Boxhead Plastics chose to target the diversion of landfill-bound plastic waste from the automotive industry, because of the inherent difficulties in recycling certain auto parts meaning much of this plastic waste material is destined for landfill. The Boxhead team has developed an innovative process that transforms low grade automotive plastic waste car bumper bars into high performance, durable and recyclable products such as the Naiteev golf tee and Naiteev drink coasters.

Boxhead Plastics has increased the sustainability of the local automotive sector by offering a scrap plastic car bumper bar collection service, the Autoplas program, to local smash repair businesses, reducing pressure on our councils and governments to have to tackle this bulk plastic waste problem. Our aim is to see collect and recycle every scrap plastic car bumper bar in Australia.

From its inception Boxhead Plastics has been practically committed to raising diversity in the plastics recycling industry. Diversity in gender, age, retiree status, ability, cultural and linguistic background, are all part of the Boxhead story.
With core executive team, 3/4''s of which are women and an experienced strategic advisory board we are a growing team full of personality minus the ego. Our team is a mixing pot of personal and professional successes from a variety of backgrounds and lifestyles including students and retirees. Our common thread is a deep sense of responsibility to care for our environment and our community.
We provide meaningful work for people with a disability to empower and promote the social, economic, and political inclusion of all, irrespective of age, sex, disability, race, ethnicity, origin, religion.
It is Boxhead Plastics vision to continue to provide education and training in the recycled plastics and manufacturing industry to those employed by us and those in the community wishing to pursue this career.